Diversity and inclusion at VantagePoint
How we're working towards making our business and the world a fairer place
What we stand for
VantagePoint's purpose is to bring tangible value to the forefront of consulting, driving change for lasting impact.

When we consider that lasting impact, we're also thinking about our wider responsibilities to the people and world around us. By putting others at the heart of our actions, we ensure we're working towards a more equal society, and that we remain a business with a conscience.

We want to work with people who feel the same way we do about taking accountability, offering equal opportunities and putting positive actions into the world – that's why we passionately celebrate our diversity and are committed to creating an inclusive workforce.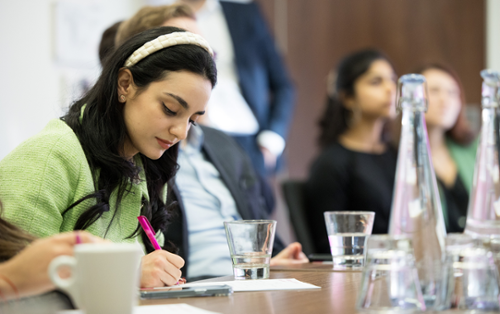 "I feel privileged to work for a forward-thinking business that takes my personal and professional goals seriously; wants to see me succeed; gives me opportunities to learn and grow; and leads by example."
Our commitment to Diversity and inclusion
It's easy to claim we're a business that prioritises equality, but how do our actions support our words? We're determined to hold ourselves accountable to Diversity and Inclusion initiatives to enable everyone at VantagePoint the opportunity to thrive. Some of the ways we're doing this include:
Committing to recognising international cultures, religions and festivals that our clients, partners and teams observe

Understanding the benefits of a diverse workforce and improving our diversity recruitment strategy to give all candidates a fair chance regardless of gender, age, ethnicity, religion, disability or sexual orientation

Having a working group of global D&I ambassadors who regularly meet to agree new initiatives




Celebrating National Inclusion Week and broadening it to be International Inclusion Week to include colleagues from all over the world

Supporting working parents to help provide the flexibility they need to carry out their best work alongside parenting

Creating a faith-friendly workplace

Recognising there is still work to be done.



Putting our people front and centre
It's also our responsibility to help VantagePoint employees feel part of the fabric of our organisation while feeling proud to work here. We believe that when our team is happy, their work is of an even higher quality – in fact it's one of our values:
'We have fun at work because it makes us better at what we do.'
We embrace honesty and authenticity, and we aspire to be a workplace without barriers – here are some of the everyday actions that help us get there:
We hold an open door policy, regular one-to-ones and employee surveys so employee feedback is taken seriously and acted upon promptly

Every new starter at VantagePoint is assigned a buddy to help them settle into VantagePoint life

We look out for each other and do not foster a blame culture – we evaluate our losses for constant improvement




We provide the opportunity to upskill, move internally and support our people in new opportunities

We support charitable initiatives, such as collecting food bank donations every month at our London office

Our team members are constantly nurtured through rigorous training programmes, because personal development helps us become better communicators. We believe that we can only be a more inclusive, diverse and ambitious business if everyone has the confidence to use their voice. All our Senior Consultants, Principal Consultants and Engagement Managers are put through a dynamic leadership development program

We plan regular social events to build company culture, and the annual company-wide summer trip is a great way for our global team to come together and celebrate our hard work.