Billy Haworth - Head of Engagement Manager
Our Head of Engagement Manager, Billy Haworth, joined VantagePoint after experiencing life as a consultant at the Big Four, so how does consultancy at a smaller company compare? In this career story, Billy takes us through his consultancy journey to date, gives us an insight into how he maintains a healthy work-life balance and shares with us his three desert island must haves!
Tell us more about your role at VantagePoint.
I'm responsible for helping to ensure the successful delivery of a number of our strategic client engagements. I typically manage up to three to four engagements at any one time, from the very initial project set-up, through to the 'go-live' of our solutions. I help to manage and steer our team throughout the duration of our engagements, I'm also the key point of contact for our clients.
Walk us through your career journey to date.
I started in consulting as a fresh-faced university graduate in September 2015. I joined Bluefin Solutions, as an EPM Consultant and helped to implement SAP's EPM products for a range of clients, across a range of industries. Armed with this experience, I was then offered an opportunity at EY which was a fantastic move for me. It really helped to accelerate my maturity within the workplace and gave me a fantastic foundation in preparation for VantagePoint which I joined in May of 2021.
What attracted you to consultancy?
The element of variety that consulting offers is what originally attracted me to the industry. You are constantly challenged with new clients to navigate, industries to learn from and problems to solve. These variables will never change, only your experience in being able to deal with them will increase!
Between leaving university and now, what changes have you seen in yourself?
An older looking face (no grey hairs yet though!). On a serious note, I think a much better understanding of business, consulting operations and managing individuals; all elements that I have been exposed to over the last seven years in the industry.
How has your career development been supported since joining VantagePoint?
VantagePoint provides opportunity. We work with clients across a range of sectors/industries, implementing a huge range of solutions. If you can prove you can do it and are willing to take on the challenge, you will be trusted with doing it!
Our strength is in our team. We have such a fantastic team here at VantagePoint.
What's the most rewarding part of your job?
We take pride in everything we do, every day. Knowing that what we are delivering for our clients is of superb quality that will enable material, positive change, is what is most rewarding for me. I also find sharing my experiences and feedback with our team a hugely fulfilling part of my role.
What's your favourite thing about working for VantagePoint?
Our strength is in our team. We have such a fantastic team here at VantagePoint and working closely with everybody is what I enjoy the most!
When times get busier than usual, what efforts do you take to maintain a healthy work-life balance?
Daily exercise and factoring in time to still eat at the more 'traditional' intervals! Exercise particularly, allows me to keep a clear mind and stay energised (this isn't always easy through the winter!).
What advice would you give to someone wanting to get into this industry or line of work?
Your attitude and willingness to learn is the only thing stopping you from being a success. Coming to work every day ready to learn and with an open mind are the perfect ingredients to allow yourself to excel in this industry.
And now for a bit of fun, if you were stranded on a desert island, what three things would you take with you?
A friend, a device to listen to Spotify on and an unlimited supply of my mum's chicken soup.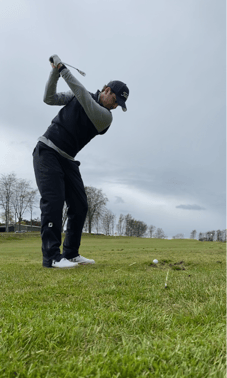 To see more of our people and what they get up to, follow us on Instagram!