Itishri Singh - Associate Consultant
For Itishri Singh, championing women in tech and broadening her horizons has never been something to shy away from; the sky's the limit, glass ceiling or no glass ceiling! So, when faced with the chance to veer down a slightly different career path after successfully running her own business, how did she take these new challenges and turn them into opportunities? In our latest career story, Itishri goes through this in more detail and talks about what compelled her to try something new with VantagePoint.
How long have you been with VantagePoint for and what does your role entail?
I have been with VantagePoint for more than a month working as an Associate Consultant with a software solution called CCH Tagetik. It has been impeccable so far, freedom to decipher, choose, and learn is what is instilled in me and it's exactly what VantagePoint offers. My role takes me throughout the lifecycle of our projects and part of that is supporting Senior Consultants to equip finance teams with the right systems and processes for their specific needs. It has been a month and I am already working with one of the biggest insurance companies, helping with their budget, forecasting and planning in compliance with IFRS17. The people and the leadership at VantagePoint have made my transition a smooth and positive one. Alongside my day to day tasks, I have also been sharing ideas regarding how we as a company can champion and support women in tech.
The kind of welcome that VantagePoint gives to its employees is commendable. Each employee, including senior management, takes time out of their busy schedules to reach out and chat.

What were you doing before you joined VantagePoint?
I had my own start-up, called Campus Puppy, which I began when I was in my final year of university studying computer science engineering. It was a SaaS based solution built on machine learning which helped companies with customised assessments, enabling them to hire the best talent. We worked with a range of different companies, including global firms such as Uber, and went on to sell the company after four years. I then spent some time heading up a team of 30 for a different start-up after which I moved to the UK from India to pursue a master's degree in business from the University of Bath.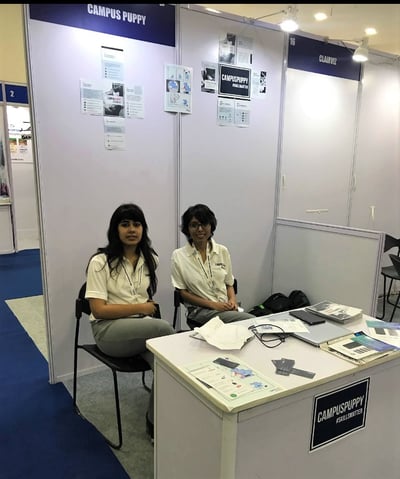 What was it about VantagePoint that stood out to you and made you want to join?
The need to learn something new and experience a new industry, along with the entrepreneurial culture is what compelled me to join VantagePoint. The desire to work with a company that believes in diversity and inclusion and the confidence I got from talking to the Directors was one of the major reasons that I decided to join.
How has VantagePoint lived up to your expectations?
VantagePoint has outperformed in terms of my expectations. The culture, people and psychological safety is what makes a company stand out. The moment I got into the office and met everyone, I knew I had made the right decision. The kind of welcome that VantagePoint gives to its employees is commendable. Each employee, including senior management, takes time out of their busy schedules to reach out and chat, which is exceptional. Giving a home to people from diverse backgrounds makes all the difference.
Changing the course of your career can be daunting, what advice would you give to someone wanting to take that leap?
Until you try, you never know what is in store for you. I think people who go out of their way and try new things have better exposure to different business functions and a better understanding of their competencies. Being an entrepreneur made me fearless because it forced me to try new things with absolutely no theoretical knowledge. To my surprise, I thought I was good with technology but found out that I was phenomenal with networking, consulting, operations, and client relationships too! Before that, I would never have had the confidence to step out of my comfort zone. My advice to people out there who have been behind the desk thinking "if I should give it a try" is to take that leap in your career, everything is a learning curve, change your monotonous cycle. You don't want to end up having regrets from never trying and not being aware of your own potential.
What has been your biggest challenge so far and how have you overcome it?
Challenging myself every day is what has made me explore my competencies. I challenged myself when I was an undergraduate to make a difference in an industry without any kind of experience. I further challenged myself by being one of the youngest employees within my last company to lead the operations team, and now I'm challenging myself to make a name in the financial technology consulting space with VantagePoint. However, the biggest challenge of them all for me has been moving away from my start-up and stepping down from something I built the foundations of. The biggest fear I felt leaving my own company was that I may not be able to make a difference in society or that I may be working for a company that didn't make a difference to society. I got over it when I thought of ways to be part of that difference.
What is the best thing about your role so far?
To learn and to have the opportunity to grasp something which at the start felt impossible, is the best feeling and is what this job has given me. Every day I am challenging myself to learn new finance jargon, new terms and above all expand my programming knowledge by writing SQL queries which I probably last did more than four years ago. Coming across struggles and making my way out of them, and the small wins I have had have been thrilling for me. In the future I hope I can add more value to the projects I will be part of.
As an industry, what else do you think can be done to encourage more women into tech?
There is lack of women support groups which I feel will make the most difference. If women leaders across businesses come together, impart their wisdom and experiences, form groups and lead career workshops to encourage young girls to pursue a technical career, I think this would be most beneficial. If there are more women in the technology sector, it would provide that psychological safety for other women to join. I've been involved in several university and panel discussions, and I've seen first hand the positive impact these activities can have.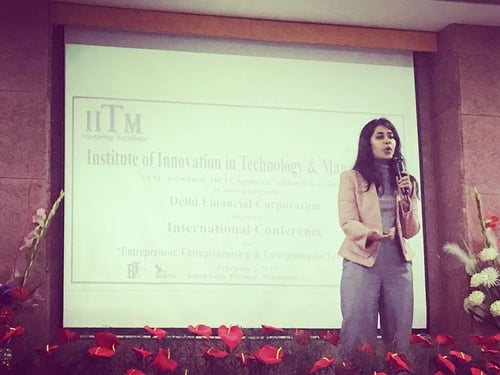 To anyone starting out in the industry that would like to follow a similar career path to you, what advice would you give them?
One advice I would give would be, as Nike says, "just do it". From my experience, until you try something for yourself, you will never know if you like it or not. Something that has worked out for one person will not always work for someone else. You can always retract, but until you try you never know.
And now for a bit of fun, if you were stranded on a desert island, what three things would you take with you?
I think I would take a boat, wood carving tools and a book. To find out more about life at VantagePoint, check out our Instagram page.