John Fuggles - Partnership Manager
Like technology, the ever-evolving world of sales can be dynamic with a plethora of problem-solving opportunities to dive into. And with over 15 years of experience in this industry our new Partnership Manager, John Fuggles, knows this very well. Below, John takes us through his career journey to date, and demonstrates how he has been able to transfer the relationship building skills gained throughout his career, to his commitments outside the office.
What does your role at VantagePoint entail?
My role as Partnership Manager has a few main elements to it, however, as with any fast-growing organisation, there is a much wider remit to help the company achieve even greater success.
The first part of my role is to work with our key strategic partner CCH Tagetik (part of Wolters Kluwer) to grow their business and look for new opportunities. Tagetik is a fully integrated corporate performance management solution, providing the office of finance real insight and efficiency in all that they do.
The second key part of my role is to work alongside our business development team to engage directly with potential clients and help them solve the challenges they are facing. This also means working with existing VantagePoint customers to make sure they are getting the absolute best they can from our consulting team and from the Tagetik solution overall.
Finally, I am a key part of the go-to-market team that encompasses all our constantly evolving sales and marketing activities.
Can you briefly go through your career to date?
Whether it's leading a team or being right at the tip of the spear closing deals, I have been in software and technology sales for most of my career.
Until recently, I was working as a growth strategy consultant and this, I believe, adds another element when it comes to understanding how to accelerate sales in any organisation. It also helps understand how to make sure we, as a company, get the most we can from every opportunity while really working as a team for greater success. Through my consulting work I was encouraged by some of my peers and customers to share the experience I have gained throughout my sales career, this led to a book deal with an academic publishing house and my (first) book is on pre-order now for release in August.
You've been involved in a lot of public speaking, for anyone wanting to venture down this path, what wise words do you have for them?
Be honest and be yourself. Presenting is about making a difference, if the audience all take away one thing from any presentation, then it has been a success. Even if that means just more questions, to inspire a debate is always a good thing.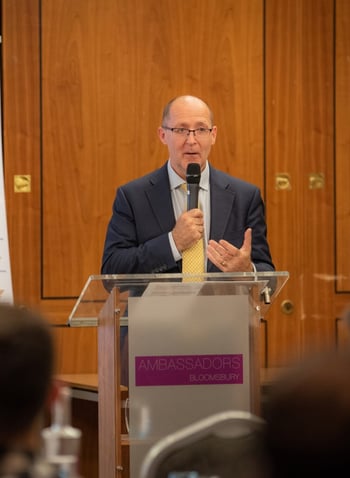 How do you ensure you are balancing work and life?
The days of the nine to five no longer exist, but this does make it all one-way traffic. Sometimes it is necessary to put in the odd late shift to get something done and that is fine if there is balance at the other end. For me, there are a few simple things that have made an enormous difference, for example at 7pm my phone defaults to silent and blocks incoming calls. My phone is never on charge by my bed so it is not the first thing I look at every day, and at night (and sometimes weekends) it is shut away in my office completely out of sight.
I have a separate office at home and I close the door behind me when I am done. It does also mean as a family, if we are all at home, we can find small snatches of time or have lunch together perhaps. The reality is that work and home/social life ebb and flow and that should be allowed to happen; sometimes the balance is tilted more one way than the other but it all levels out in the end.
When you started at VantagePoint, did you have any concerns about being able to balance your commitments outside of work?
None whatsoever; VantagePoint is a great company. The people are all committed and very focused, but with a recognition that there is life beyond the office. It is very much a people first company, and that is not just reflected in the values, but it is also demonstrated right from the top of the business every day.
My out of work commitments manage to fit very neatly around what I do by design. School governor meetings are during the evenings while climbing and the gym are weekend and evening pastimes.
In February I started fundraising to send medical aid to Ukraine. The team I work with are amazing and extremely hard working; it is all done in their spare time. We have delivered 24 ambulances and over 20 tonnes of purely medical and humanitarian aid so far. It has never been an issue for VantagePoint and the people are incredibly supportive of what Help4Ukraine is doing.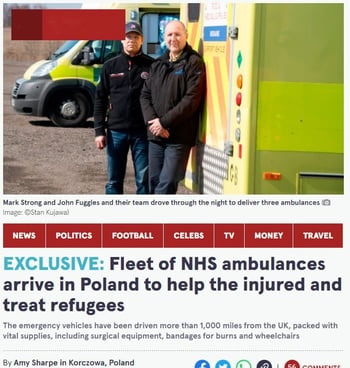 To anyone starting out in the industry that would like to follow a similar career path to you, what advice would you give them?
The industry has changed a lot. Technology is moving at such a fast pace but so is sales. We tend to think that sales has always been the same, but the way people sell has changed. Access to information has exploded and the need to satisfy all parties has become more complex, with many more distractions.
For anyone wanting a sales career, I would suggest reading every book you can on the subject and taking from it the bits that work best for you. For anyone not wanting a career in sales I would still advise you to try it for a while. It may ultimately not be the career for you, but it would certainly be a great learning experience, and you might enjoy it!
And now for a bit of fun, if you were stranded on a desert island, what three things would you take with you?
My entire book collection. Or is that cheating?
Tools to make things from the woods/trees; I enjoy DIY and love woodwork so this would give me something to do while offering something practical at the end.
Sun cream, I burn easily.